Delivery & Installation
We pride ourselves on excellent service. Unlike larger companies we take great care to ensure our deliveries are at a time that suites you and that our installations are of the highest quality.
We currently can only delivery to the following postcodes. Use the poscode checking tool to the right to see if you are in catchment.

SA1, SA2, SA3, SA4, SA5, SA6, SA7, SA8, SA9, SA10, SA11, SA12, SA13, SA14, SA15, SA16, SA17, SA18, SA19, SA20, SA31, SA32, SA33, SA34, SA35, SA36, SA37, SA38, SA39, SA40, SA41, SA43, SA44, SA66, SA67, SA68, SA69, SA70, SA71, SA72, and SA73.
Free Delivery Conditions
Delivery of any appliance over £100 is free within a 50 mile radius of St Clears. This includes delivery to the ground floor of a property, unpacking and checking of the appliance, and disposal of the packaging if required. Any delivery that requires the appliance being moved either down or up a stairs, may not be delivered free as a two person delivery team will be needed. If this is the case a charge of £20 + VAT will apply.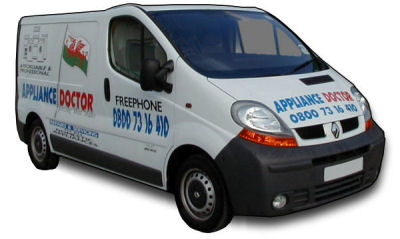 Installation
Due to the broad range of appliance on sale we cannot detail here all of the possible options. Instead we direct you to product page of the appliance you are interested in.
Additional work and materials.
Any other work needed to install an appliance, i.e. to fit a self cut sink waste outlet, modify any wiring or sockets, fit any water supply valves etc, will incur a labour charge if this work is required by the customer. Please ask for a quote.
Any additional material that is required for connecting the appliance that is not supplied with the appliance as standard will be chargeable as listed below.
Longer 2.5 meter fill hoses £3.75 each + VAT
Extension waste hose £9.75 each + VAT
Cold fill Adapter £1.99 each + VAT
13 amp plug £1.00 each + VAT
30 Amp Cooker connection cable £3.50 each + VAT per meter
30 Amp Junction box £2.99 each + VAT each
13 Amp Junction box £2.50 each + VAT each
Gas hose NG or LPG £17.50 each + VAT
We do not accept liability for failure to complete installations due to unforeseen additional work.
Collection and disposal
The cost of collection and environmentally friendly disposal varies product to product. Please see the individual product page for details. Please note: where an old appliance is disposed of, once removed from a customer's home, it is non returnable and all rights to it are waived.